Enjoy cooking all the more with this Elica wall-mounted chimney and say goodbye to oily fumes and odours. Featuring the Heat Auto Clean technology, this chimney makes cleaning quite hassle-free. Designed for the modern Indian household, this chimney comes with a touch control panel to let you access all features easily.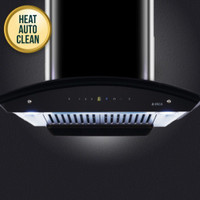 Heat Auto-clean Technology
Thanks to the Heat Auto Clean technology, you can clean your chimney with the simple push of a button. This technology uses a heating element to remove the sticky oil particles inside the chimney and collect it in the oil collector.